Press
Press release
The "researching games BarCamp", abbreviated #resgames, was launched in Wiesbaden in 2011 as a network meeting for the scientific exploration of digital games. Over the past five years, this has brought young academics with various disciplinary backgrounds into contact, and an active and interdisciplinary dialogue could flourish. Since 2016, #resgames is an official partner of the International Games Week Berlin.
#resgames 2017 invites young academics from all disciplines as well as practitioners from the game industry and digital game artists. The aim is to encourage a more intensive exchange between research and practice. This exchange is also fostered by the BarCamp format: A BarCamp is an open meeting, during which all participants are requested to give a presentation. The exact schedule is decided on by all participants at the beginning of the event. As usual with BarCamps, sponsors mostly finance the event, which is why the participation fee – including food and lodging – can be kept very low. By featuring this format, #resgames is intended being an addition to academic conferences or practice-oriented events.
The "researching games BarCamp" 2017 is organized by the researching games GbR (Florian Berger, Steve Hoffmann, Christian Roth and Felix Schröter with the support of Annegret Montag and Melanie Fritsch). It will take place from April 28th till April 29th 2017 at the Youth Hostel "Jugendherberge Berlin Ostkreuz". The participation fee is 35 €.
Press accreditation on request.
Contact: info@researchinggames.net
Twitter: @researchingames
Logo

researching_games-printlogo.png 3840 x 1440 PNG, 538 kB
researching_games-printlogo.tif 3840 x 1440 TIFF, 892 kB
Poster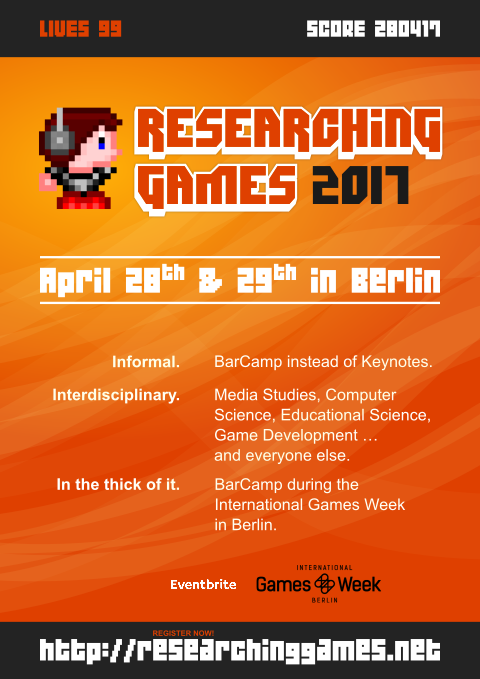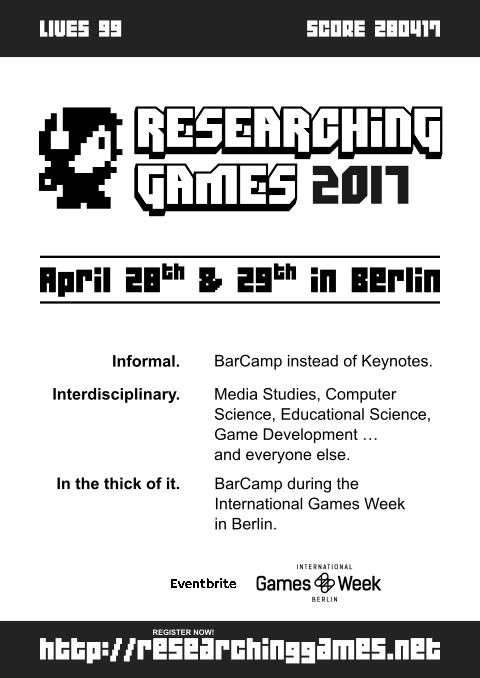 Download as a PDF in colour or black-and-white.
Gallery
Download all images in high resolution (ca. 11 MB).
Information requests
Please feel free to contact us.